Traveling is difficult and demanding under the best circumstances. And we can all agree that carting babies and children around does not constitute the best of circumstances. Naturally, though, you don't want to give up vacationing just because you've got a little one in tow, so don't! Instead, travel smart. Whether you're headed one state over or across the world, renting a car is part of the journey. Here's your complete guide to rentals, from questions to ask to car types to the necessity of head supports for car seats. Let's get started.
Do You Need a Rental Car at All?
After years of traveling with kids, you'll build up a routine to guide you through picking a car, but at first, it may feel overwhelming. The first question to ask is: do you even need a rental car? Because if you don't, you'll save yourself a great deal of trouble. You might not need one if:
You have family in town willing to pick you up and ferry you around.
You have friends or family who can lend you a car for the duration of your trip.
The place you're going has great public transportation and your child is small enough to stay in a carrier all the time.
You won't be there long.
You are hopping from place to place.
If none of the above is true, though, chances are you need a rental car.. Lugging strollers and car seats and suitcases around without one is a real pain just for an afternoon, let alone a week of traveling. Assuming you do need one, then, what kind is right for you?
What Kind of Rental Car Do Families Need?
There are several factors that go into deciding which type of car to get. Among the most important are:
How many people are there in your family? Your car will need to be big enough for everyone PLUS all the luggage you are bringing. Don't forget that you will have more gear in your car than you do at home, so if you typically drive a sedan, you might want to upgrade to an SUV.
How much driving are you doing? Some car rentals charge by the mile, and there's always gas to consider. If you're going to be covering a lot of ground, fuel-efficient is the way to go.
How comfortable are you driving different types of cars? If you're a nervous driver, you might want to stick to a make and model that feels familiar. If you feel happy tackling any type of vehicle, then you can tailor your experience more effectively.
What are the safety ratings? Different cars provide different safety features. Parents with young children typically want the absolute best ratings, which is something to ask the car rental company about.
What's your price point? Depending on how much you have to spend, you may have to adjust your expectations for any of the above categories.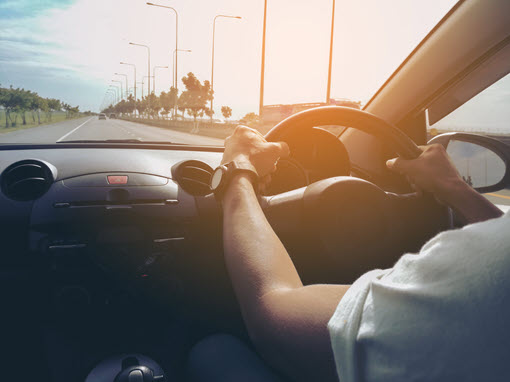 Should I Rent a Car Seat?
The next question is, should you rent your car seat? That really depends on what makes you feel most comfortable. Some parents prefer to bring the car seat that they know and love. It's already adjusted to your baby, they feel comfortable in it, and you know how to install it correctly in cars using either the shoulder strap method or the clips method.
Plus, renting car seats isn't necessarily cheap. Like the auto itself, car seats usually cost a daily rate of between $10 to $20, which can add up quickly– and that's before any random fees the company might tack on.
On the other hand, different jurisdictions have different laws about car seats. If yours does not meet local requirements, you might get yourself in trouble, such as voiding rental car insurance or getting a ticket. Companies don't always have them, though. If you go this route, it's critical you check ahead of time that they're on offer.
Also keep in mind that not all car seats have great head support. If your baby is young or tends to nap with their head at an awkward angle, you might want to bring along head supports for car seats. These can help ensure your kiddo's head and neck stay safe in any situation.
What to Do with Car Seats While Traveling
Assuming you bring your own car seat, what the heck are you supposed to do with it on planes and trains? Given car seats "fly" for free on airplanes, many parents choose to bring the seats they feel comfortable with. Some choose to bring car seats right into the plane cabin itself. It's better for long trips than sitting only on Mom or Dad's lap, both for parent and baby. Make sure ahead of time that your seat complies with airline regulations, though, or you may have to check it.
The bad news about car seats is that they will likely spend a lot of time in transit. Even if they don't go in the cargo hold – which most parents choose to do after babies can sit up on their own – they still have to pass through security and bump around on shuttles and buses. It's important you protect your car seat against wear and tear or, worse, breakage.
The good news is, there's a cover for that! Car seat covers are easy to get and easy to use, so invest in a nice, thick, durable one with good ratings. Before you travel, make sure you know how to use it.
Navigating Between the Airport & Car Rental Center with Kids
You've just stepped off the plane with luggage, stroller, car seat and toddler in tow. Great. You might as well pitch a tent, because there's basically no way you're actually getting anywhere, right?
In all seriousness, getting that much gear to the car rental place is pretty difficult. If the rental car center is in the main airport, you should rent a cart and stack your gear up for the trip. If, on the other hand, you have to take a shuttle, things get harder. Here are a few tips:
It's probably still worth paying for the cart, even if it only takes you to the curb. If you have little enough gear that you can move from one place to another in a single trip, that's fine, but remember: never leave your luggage unattended unless you want a nice, long chat with TSA.
Ask for help. Usually the shuttle driver will pitch in without being asked, but if you need to, feel free to solicit their help. It's typically considered part of their job.
Have a tip ready. If a shuttle driver helps you load your goods, always tip. Not only will this ensure they help you on the other end, it's also the right thing to do. A five-spot is appropriate if you have more than a couple pieces of luggage, and will often prompt them to bring your luggage right into the rental car center for you.
How to Save Money on Car Rentals
Rental cars can cost a lot, especially if you don't plan ahead. You can get great deals by price-shopping and traveling during the low season, sometimes as low as $25 a day. Keep in mind that this does not include extra fees, however, which sometimes total the cost of the daily rates together. Also, peak-season prices are typically much more expensive. In a busy place, at a busy time of year, you might be looking at $100 per day or more. Yikes.
You can save yourself an arm and a leg by planning ahead. Here's the basic process:
Rent your car as soon as you have travel dates. It might seem easier to do it at the counter, but that's a surefire way to waste money. If you need a car that minute, they've got you over a barrel.
Don't book it at the airport either way. Even if you happen to be at the airport before your trip, resist the urge to knock out the chore. Booking online can save you anywhere between 10 and 30 percent in extra fees applied only at the counter.
Try and use a credit card that covers primary insurance. Some card companies will cover the cost of insurance on a rental car, so check with yours to see if they do. Also make sure to check other regulations. They may require you put the whole cost of the car rental on the card to get the perk.
Bundle where possible. If you are renting a hotel or booking airline tickets through a travel site, try to get your car rental through there as well. You're guaranteed to save money.
Remember your memberships. Lots of memberships offer you perks on car rentals. AAA and Costco are two common ones, but ask the rental place what other memberships they take to save the most money.
Balance paying ahead of time with cancellation fees. If you're not certain about your travel plans, you're better off buying trip cancellation insurance or waiting to book. The only thing worse than paying top dollar at the airport counter is paying for a car rental you'll never use. Book wisely.
The last factor to consider when renting a car is the insurance.
Rental Car Insurance
Almost every rental car company will require you to sign up for basic insurance coverage. This may vary depending on the vehicle or how many drivers are approved for the car. If you have a U.S. license and are renting a car in the U.S., then your own auto insurance will typically cover you behind the wheel of a rental.
Some people choose to increase the amount of coverage on the car to ensure they don't get hit with heavy fees if the car does suffer damage. And with kiddos on board, that's more likely to happen. Sticks against the paint, vomit in the back seat, and so on … it can all lead to nasty fees for you.
Extra insurance costs, well, extra though. Talk to the company to get a more accurate idea of how much damage will cost you versus the fee you will pay every day for additional coverage – usually between $20 and $50.
How to Pack a Rental Car-Friendly Grab-and-Go Bag
Parents with babies are known for packing everything but the kitchen sink every time they head across town. And that's great when you're traveling, because you're less likely to be caught with your pants down – or more likely, your kid's pants down. But it can get difficult sorting through so much stuff in an unfamiliar car.
Instead, pack a grab-and-go bag. This is a small sack that you can keep on the floor of the second row, between the driver's and passenger's seats. That way, when anyone needs a snack or a burb or a change, you can get to it easily. Feel free to use your existing diaper bag, if it's big enough, or get a separate carryall. It should contain:
Normal diaper bag items, such as changing supplies, burp cloths and bottles – assuming you are traveling with a baby.
Snacks for children and for yourself. Parents get hypoglycemic too!
Plenty of liquids for everyone, both water and something with electrolytes to combat fatigue and fussiness. (The latter does not apply to babies, who should stick to breast milk or formula.)
Any documents relating to children, including passports or birth certificates.
A small first-aid kit with a thermometer, Tylenol or Ibuprofen, allergy medicine, Band-Aids, and anything else you regularly need at home.
While you won't be able to fit everything you might need into this bag, it can really save on stops to have it all on hand ahead of time.
That's it! Your handy rental car guide, all in one place. Feel free to take notes or print out this post before you tackle this big task, or share it with a friend!