Whether you've got a free weekend or a full week off, there's no better way to make family memories than by taking a road trip. Of course, traveling with toddlers means a bit more preparation — but the look of wonder on those little faces whenever they see something new is definitely worth it. So pack some treat bags, throw a few extra toys in the trunk, and make sure head supports for car seats are in the back seat... it's time to explore!
Not sure where to go? We've made it easy; here are a few of our favorite destinations that offer fun for the whole family, toddlers included.
Smugglers Notch, Vermont
If a winter road trip sounds just right, head to Smuggler's Notch in Jeffersonville, Vermont. Local ski resort Smuggs offers a range of programs for little ones, all designed to keep them busy so the adults can enjoy a day on the slopes. Here, you can sign toddlers up for ski lessons (starting at age 2 1/2) or snowboard lessons (for ages 4 and up).
If kids are too little to hit the slopes, Smuggler's Notch offers an amazing childcare center, complete with age-separated areas, napping spaces, climbing toys, and more. The childcare center is ski-in, ski-out and has an observation window, so you can peek in on your kiddos in between ski runs.
The resort offers a full schedule of wintertime activities for the whole family, too. Every week during the winter, the resort offers pirate bingo games, bonfire nights, dog sledding, and a Winter Carnival to keep kids and adults busy.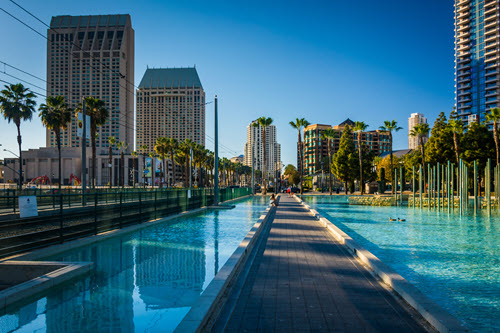 San Diego, California
If you're heading to Southern California with toddlers in tow, San Diego should be at the top of your to-visit list. This vibrant city is packed with activities for all ages, including the littlest members of your family. Start your adventure at Balboa Park. The city's largest park is home to playgrounds, picnic areas, multiple museums, a carousel and a miniature train, just to name a few.
It's also home to the San Diego Zoo, which houses more than 3,700 animals. Buses criss-cross the park, making it easier for families with small members. SeaWorld San Diego also offers amazing animal exhibits. Toddlers will especially enjoy the Sesame Street Bay of Play.
No San Diego road trip would be complete without beach time, and the city has miles of sandy shores to choose from. Families with small children will enjoy Coronado Beach, a calm stretch of sand that offers fascinating tide pools at low tide and gentle waves.
If you need a break from the sun, San Diego has two children's museums that you won't want to miss. The New Children's Museum offers a focus on art and creativity, with hands-on activities that will bring out the artist that lives inside every child. The San Diego Children's Museum is all about play, with exhibits and programming designed to allow kids to explore, experiment, discover and imagine, with a focus on science, art, and culture.
Hilton Head, South Carolina
Want to take a bike ride, kayak, hit the beach, and nosh on some ice cream? A family vacation in Hilton Head, South Carolina makes it possible. This coastal town is known for its stunning views, but it's also packed full of activities for all ages, including toddlers.
Hop on a bike (with a kid carrier attached, of course) and explore more than 100 miles of wide, scenic bike paths. Rent kayaks or canoes and glide through the calm waters of Hilton Head's many salt marshes and calm rivers. Take a cruise on a pirate ship, go fishing, or look for friendly marine mammals on a dolphin tour.
In town, your little ones will love the many ice cream shops and toy stores. Be sure to swing by The Sandbox, an interactive children's museum that offers hands-on activities. At the Coastal Discovery Museum, kids can explore the area's rich biodiversity, from seashells to sea turtles. Of course, there's the beach! With miles of sandy shore, Driessen Beach offers a playground, plenty of picnic tables, and a boardwalk where kids can search for sea turtles and great blue herons.
Orlando, Florida
No toddler-friendly road trip list would be complete without a shout-out to Orlando. Of course, the city is home to multiple theme parks, like Walt Disney World, Universal Orlando, SeaWorld Orlando and LEGOLAND Florida. Most theme parks offers special perks for kids under three, such as free admission, ride switching options and areas designed just for little ones.
But Orlando has even more to offer to vacationing families. Toddlers who love animals will delight at the Central Florida Zoo and Botanical Gardens. Here, you can visit the lions, tigers and bears, as well as cool off in the Wharton Smith Tropical Splash Ground, complete with fountains and water play. Be sure to check out the Botanical Garden, too; it's filled with colorful butterflies that are sure to delight any toddler.
Budding artists will love the Crayola Experience, filled with hands-on creative activities and exhibits to bring out their artistic impulses. As its name suggests, Gatorland is the perfect place to get up close (but not too close!) to those famous Florida amphibians. And the Orlando Science Center has an entire floor dedicated to kids ages 7 and under; KidsTown is the perfect way to spark their interest in science.
Branson, Missouri
Though it may be best known as a center of country music, Branson has plenty to keep kids busy, too. Families can take a ride on the Branson Scenic Railway, an hour and 45-minute trip through tunnels, over trestles and through forests thick with wildlife.
Spend the day at Silver Dollar City, where you'll enjoy 13 acres of theme park rides and a water park, both with attractions just for little ones. The park also offers live music, artisans at work (such as pottery, wood working and glassblowing), and a bevy of costumed characters that'll take you back to the Ozarks of centuries past.
For some free family fun, stop by Branson Landing. Every hour starting at noon, you can marvel at the fountain and light show — complete with music and cannons — that shoots 120 feet into the sky. The family-friendly Big Cedar Lodge offers a plethora of activities for kids, including swimming pools, a lazy river and nightly bonfires.
Columbus, Ohio
Looking to spend a weekend in Columbus, Ohio? This Midwestern city has much to offer families. Start at the Franklin Park Conservatory. Your toddler will love playing in the splash park that's built to resemble Hocking Hills State Park (waterfalls included) and Nature Play Zone, where there's space to dig for buried treasure, build forts, climb and jump.
The Center of Science and Industry is a great stop for all ages. Adults and older kids will love the science- and tech-themed exhibits, while toddlers can explore in the Little Kidspace. This fun area includes a life size tree house and a light and shadow wall.
On a hot, sunny day, head to Scioto Mile so the kids can play in the 1,500 square foot fountain and splash pad. The Columbus Zoo and Aquarium is another don't-miss destination, with more than 10,000 animals from all over the globe, from seals to giraffes, penguins to lions. For even more animal fun, take a short drive to the Slate Run Living Historical Park, where kids can pet turkeys, horses and pigs, and see what life was like in the late 1800s.
Wisconsin Dells
The Wisconsin Dells is known as the world's water park capitol, and for good reason. Here you'll find an incredible number of toddler-friendly indoor and outdoor water parks for year-round fun, each with its own unique theme. From an African Safari to the top of Mt. Olympus, the whole family can spend the day slipping and sliding.
When you've had enough water play, head to the Timbavati Wildlife Park. Open from spring through fall, you can walk or ride a train through this outdoor park and see rhinos, ostriches, camels and much more. Get even closer to nature at the Wisconsin Deer Park, where kids can feed and pet the resident deer.
If your toddler loves trains, as so many do, don't miss the chance to take a ride on The Little Railroad. This tiny, 15-inch gauge railroad is pulled by a live steam engine, as it winds through three miles of canyons and forests along the Dells River.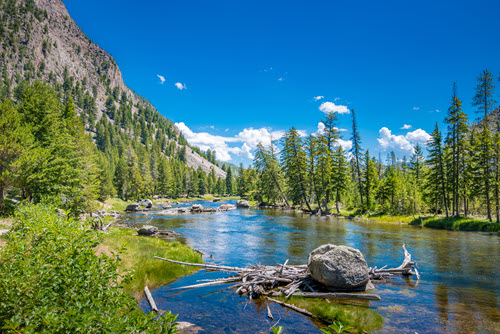 Yellowstone National Park: Wyoming, Montana and Idaho
It's easy to see why Yellowstone is one of the most-visited National Parks in the U.S. From the stunning natural scenery to the abundant wildlife to the magnificent geothermal features, this amazing park is truly a national wonder.
Best of all, if you're traveling with a toddler in tow, you can skip the walking and drive through many parts of the park. On a long drive, head supports for car seats really come in handy so kids can sleep safely and comfortably!
Most roads are open from late April through early November, depending on weather conditions. While you're in Yellowstone National Park, your family can explore gentle trails, go fishing, take a boat ride and ride horses. There's so much for little kids to do and see, from wildlife to geysers.
Sedona, Arizona
About 100 miles north of Phoenix lies Sedona, Arizona. This welcoming town nestles in otherworldly red rock formations, creating a stunning backdrop you just won't find anywhere else. The town is a Mecca for those who love outdoor activities. From biking to hiking, there's plenty to do in Sedona.
When traveling with a toddler, the key is finding easy strolls that offer views of the stunning surroundings. Crescent Moon Ranch is a great place to spend the day. Here you'll find swimming holes galore (many on shallow sandstone ledges perfect for toddlers), plenty of picnic areas and amazing views of towering Cathedral Rock.
For more water fun, head up lovely Oak Creek Canyon to Slide Rock. This State Park encompasses a portion of Oak Creek that's perfect for wading, with natural rock slides built into the slippery shores of the creek.
You won't want to leave without seeing more of the area, so take a tour with one of the town's many bright pink Jeep tour operators. To see even more of the beautiful Sonoran Desert landscape, head a few miles out of town to Clarkdale, where you can take a ride on the Verde Canyon Railroad.
Olympic National Park, Washington
Set on the northwestern edge of Washington State, Olympic National Park offers the chance to walk through an ancient rainforest, spot birds and wildlife, and relax in a pool fed by hot springs. If you're traveling with a toddler, be aware that this (very) rainy region's dry months are June through August. If you're visiting in winter, spring or fall, you'll experience the misty conditions that make the thickly forested peninsula look almost magical. Either way, be sure to pack those raincoats and boots.
While in the area, take the drive to the top of Hurricane Ridge for stunning mountain views, or take your time and drive the entire 300-mile loop of the park perimeter. Your toddler will definitely need some pit stops along the way. Take an easy hike that's suitable for toddlers at the Cirque Rim and Big Meadow trails, which are both flat and paved.
If you feel like roughing it a bit, make reservations to camp at Sol Duc Hot Springs Resort Campground. Access to the geothermic hot springs is included with your camping fee.
These family-friendly destinations are sure to keep you and your toddler busy! So pack those suitcases, attach those head supports to car seats in back, and put the Wiggles on the car stereo... because it's time to hit the road and make some memories.