Road trips are affordable, versatile and, best of all, right outside your front door. Done right, they can be a real barrel of monkeys too. When you have kids, however, it's not as simple as downloading a few podcasts, packing some snacks and hitting the road. Traveling with kids takes Planning With A Capital P, and nowhere is this more important than in the entertainment department.
So while you're busy packing up your diaper bags and chargers and favorite blankies and head supports for car seats, make sure you plan for entertainment ahead of time too. Here are 20 ways to entertain your little ones during long drives that won't break the bank and will give you the peace of mind you're seeking.
1. Provide Limited Visual Entertainment
The first and most obvious way to keep kids entertained in the car is probably also the worst way. There are some benefits of screens (the main one being you get a break), especially if they're located toward the front of the car. When kids face forward, they're less likely to become ill on the road. Screens in the lap are typically a bad idea for winding roads, unless you are the rare parent who likes cleaning up puke.
To keep screens facing forward, you have several options:
Use a video player mounted in your car. If you didn't get one with the manufacturer model, you can install one yourself.
Buy a mounting kit to attach a tablet to the back of the driver or passenger seat.
Balanced your laptop on luggage right behind the center console, but make sure you keep an eye on it.
Note, though, that screentime only buys you a few good hours. Research shows too much tablet or phone time makes kids moody, unbalanced and lazy. That's unlikely to improve your trip. Instead of giving them free reign, use screentime as an incentive for good behavior. For instance, let them watch an hour before lunch and an hour before stopping for the day, and do other activities in the meantime.
2. Bring Lots of Audio Entertainment
On the other hand, audio entertainment is nothing but good for your children, and you can freely "administer" it all day long. Listening to stories is good for kids, and that's just as true when a professional voice actor does the narration as when you do.
When kids hear books read aloud – even if they're already capable of reading themselves – they "have the opportunity to hear speech patterns and rhythms that they might miss in print. They teach them about voice and expression, which can help with their own speaking and articulation," explains Irene Picton of the National Literacy Trust.
3. Bring Your Disciplinary System from Home
Even when they're having fun, kids will still turn to the dark side every now and again. On the road, that can be annoying at best, and dangerous at worst. It's important to have a system in place for discipline.
Luckily, most parents already have a strong disciplinary structure that they've built at home. Feel free to simply bring it along! Whether you use merits and demerits, chores and allowances, marble jars or any other method, most are small, portable and easily tucked into a car. If you use a large board at home, consider printing your normal system out on paper and attaching it to a clipboard instead.
That said, there's no reason you can't make "being good" an extra-fun proposition on road trips …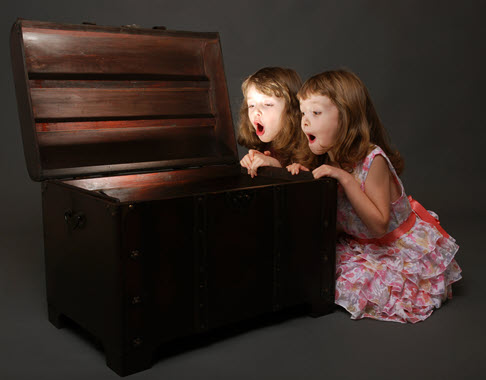 4. Create a Treasure Chest to Reward Good Behavior
Honestly, few of us adults would say no to a treasure chest, and children are doubly excited about them. That's why they routinely feature in classrooms and dentist's offices … the thrill of the unknown combines with the pleasure of acquisition to motivate kids where little else will. Just remember that sweets and treats will make your life harder in the long run, so fill your box with puzzles, hotly anticipated books, road trip games, art supplies, and healthy snacks like raisins or granola bars.
5. Pack Art and School Projects
Traveling during the year? Pack homework in bite-sized chunks (say, half an hour at a time) and pass it backward for completion before screentime, when kids will be most motivated. If you're traveling at a time when there's no work to complete, you can invest kids in meaningful activity with art supplies. The important part here is to know your child. If they're goal-oriented, then a kit always works well, because they know what they're aiming toward. If they like freeform art time, pack a skeleton crew of their home setup.
6. Let Them Lend a Hand
Kids love to feel useful. Even if you don't need their help, strictly speaking, it's great to give them that feeling of agency where you can. Assign them specific tasks, such as:
Monitoring the GPS for upcoming turns
Watching the clock for landmarks in time (meals, snacks, naps, screen time)
Looking for road signs
Doing final sweeps when packing up your accommodation
Keeping track of specific items, like Baby's blanket
7. Play Road Trip Bingo
For kiddos who tend to get car sick, window games are the perfect distraction, because looking at the road helps to balance their inner ear. You can download printable road trip bingo online, or buy kits that use small windows, which slide open and closed across the squares for easy tracking.
8. Advertise Planned Pit Stops
Everyone needs something to look forward to on long stretches. Try to pick one place every day that kids can look forward to. That might mean:
Family
Adventure parks
Large travel stations with food courts
Hikes
Gift shops
Visitor centers
Campgrounds
Tell them the night before what they can look forward to the next day, then remind them when you get in the car in the morning.
9. Learn Photography
We've never met a kid that didn't love taking pictures. This is a great skill to foster in children by the time they're six or seven. You just have to determine what technology they'll use, from your phone (if they're trustworthy) to a disposable camera for the clumsier set.
10. Offer Healthy Snacks for Balanced Nutrition
Let's not lie, eating is fun. Kids feel the same way as adults do, so feel free to treat snacks and meals on the road as an activity. Maximize the time kids spend eating to minimize their boredom, and you'll thank yourself later. It's also important, of course, to focus on nutrition. Balance macronutrients – proteins, carbohydrates and fats – with little treats. "Good" portable foods include:
Veggie sticks
Granola bars, especially made at home with less sugar
Beef jerky or meat sticks without a lot of nitrates or nitrites
GORP or trail mix
Sliced apples and oranges
Rice cakes and whole wheat crackers
Nut butters
Sprinkle in healthy treats such as dried fruit, bananas and chocolate, but only once kids have consumed fiber- and protein-dense foods to slow their digestion and prevent the sugar crash.
11. Keep Travel Journals Along the Way
Travel journaling is super fun, because it brings real-world application to the ephemera you collect along the way. Ticket stubs, national park or campground passes, Polaroid photos, brochures and maps all make excellent additions to travel journals. Children who can write can add their own thoughts and captions to the mix, while younger children can draw their thoughts.
12. Make Naps Easy and Comfy
Children nap on road trips until high school, and sometimes even then, when they're truly tired. The under-five set, though, needs dedicated nap time every day in order to keep spirits and energy levels up.
Make naptime a predictable event that kids know is coming, with the same routine you would use at home. Darken the interior of the car with window shades, put some calming music on to drown out the road noise (unless music keeps your kids awake), and make sure they have treasured blankets and stuffies on hand. Use head support for young children to ensure their necks stay straight even on long stretches.
Remember, too, that daytime naps and nighttime sleep are mutually reinforcing. If you want them to nap in the car, maintain a good bedtime routine even at campsites or hotels.
13. Create a Treasure Hunt
Roads and highways have all sorts of exciting sights to offer. From bald eagles to herons, houseboats to limos, Smoky the Bear signs to this classic, there's lots to look for beyond the typical Road Trip Bingo card. Collect ideas and print out your treasure hunt beforehand, then distribute with a clipboard to everyone in the car. Make the winning prize something the whole family can share, with a small extra treat for the person who finishes first. This will minimize arguing.
14. Sing and Sing and Sing Some More
Kids love nothing more than parents joining in on their fun. Anyone who road tripped regularly as a kid likely has fond memories of a certain CD or tape they loved listening to as a family. Collect songs or whole albums on your phone or their tablets for easy listening while driving, but remember to download them for when you hit patches without service.
15. Always Have Surprises on Hand
Sometimes things just fall apart, and there's nothing you can do. When that happens, you want to avoid empty threats of the " … or I'll turn this car around!" variety, which don't get you anywhere. Instead, pull out surprise bags. When you hit construction, have trouble checking into an Airbnb or otherwise go off-schedule, this can provide a much-needed lift.
If you have room in the car, it's smart to pack a surprise for every day, but don't let the kids know you have that many – otherwise they'll start misbehaving just to get it.
16. Bring a Dictionary
Young readers love learning new words, and an illustrated dictionary is an excellent way to learn them. Tell kids you want them to learn five new words by the end of the day and be able to use them in a sentence, then let them choose their own. They'll naturally gravitate toward words that match their ability level, and will have a blast inserting "cochineal" into conversation that night.
17. Have Them Help with Inventory
Most people take inventory in some form or another at the beginning or end of the day. Kids love counting and tracking items (think of the post-trick-or-treating candy sort), so put those natural skills to use. Kids can help you:
Inventory the food for that or the next day
Go through first aid supplies if you've used the medical kit
Plan outfits for everyone in the family
Help track baby supplies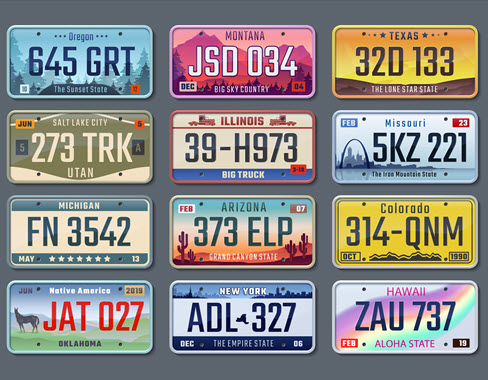 18. Play the License Plate Game
The license plate game is fun enough that even adults love it. Print out a list of every state before you leave home, then pass them out. The first person to check off license plates from all states and territories wins.
19. Pack Graphic Novels
More digestible than books without art, graphic novels can entertain kids who can't get into long stretches of reading. Plus, they're fun to look at with one another, which chapter books are not. Ideally, choose books they've been looking forward to for extra cachet.
20. Break Out the Window Markers
This is a super-fun, no-mess (okay, low-mess) travel hack that can keep kids entertained for hours. Window markers let kids play without restriction, doing something that would traditionally be considered naughty, an added mystique that will buy you hours of peace over the course of your trip.
Make sure you clarify ground rules ahead of time: only drawing on the window, keeping markers away from one another, using a wet rag to clean up any mess immediately, and sharing nicely. You might also offer ideas: draw what you see, draw yourself using your reflection, draw the best day of your life, etc.
No matter what you do, traveling with kids will still pose some challenges. But with the right planning ahead of time, you can keep your driving time light and fun, with plenty of memories to bring home